Visitor Pass Sign In Book
Visitor Sign-In Books To Manage Visitors

A simple visitor management system using Carbon Copy Labels that allows schools, colleges and businesses to increase security with an easy-to-use visitor registration system. Customized pre-printed full-color visitor passes show off your school identity or company name. When each visitor pass is written, it automatically creates a permanent record of each visitor in your School or Company Visitor Book.
Fully Customizable Carbon Copy Labels
These carbon copy labels can be fully customized with your own design or let us design an attractive label for you.  You can create any type of label you want such as carbon copy name tags, temporary parking passes, event registration passes and anything else you can think of where you want to retain a copy of the information written on the label.
The Book System Tracks Visitor Registrations
When visitor passes are created using our visitor book system, a carbonless copy of the name and any other hand-written information remains as a permanent record in the visitor log book. Our visitor sign in log books are pre-printed with your custom visitor passes, 8 labels per page. Each visitor log book contains 100 pages (800 Labels Per Book) of full-color visitor id labels (or any other custom labels).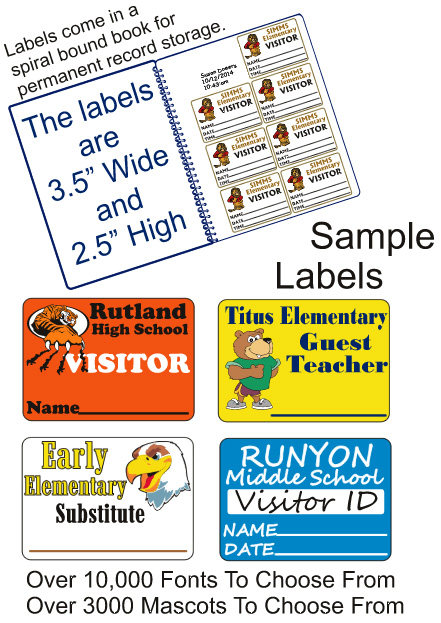 Spiral Bound Or 3-Hole-Punched Visitor Books
This simple visitor pass system is available with 3.5″ x 2.5″ stick-on labels in a spiral-bound visitor log book, or as 3-hole punched pages ready for a looseleaf binder.
Extremely Affordable Visitor Tracking System
Spiral Bound Visitor Sign In Books are $80 each (100 pages with 800 Labels)
3-Hole Punch Visitor Sign In Books are $75 each (100 pages with 800 Labels)
Visitor Log Book Features:
Full color custom visitor labels – No Setup Charges
800 labels per book (100 pages – 8 labels per page)
Spiral bound or 3-hole punched
Inexpensive – 10 cents per label or less
Permanent carbonless record of visitor information
Extremely easy to use
Choose from over 3,000 mascots or use your own artwork/logo.
10,000 fonts to choose from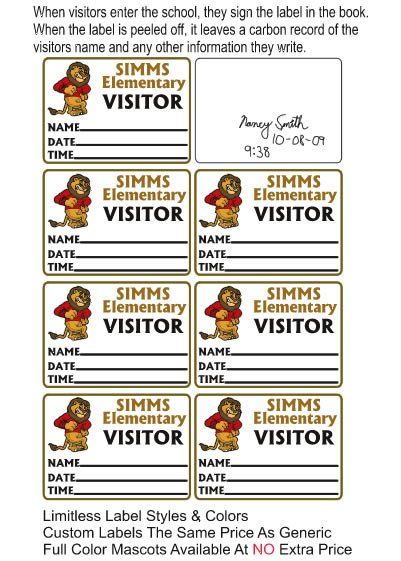 Easy Ordering For Visitor Books
Use our Book System Order Form for ordering either spiral-bound visitor books or 3-hole punched visitor log books