Visitor Pass Sign In Book
Visitor Sign-In Books To Manage Visitors

A simple visitor management system that allows schools, colleges and businesses to increase security with an easy-to-use visitor registration system. Customized pre-printed full-color visitor passes show off your school identity or company name. When each visitor pass is written, it automatically creates a permanent record of each visitor in your School or Company Visitor Book.
The Book System Tracks Visitor Registrations
When visitor passes are created using our visitor book system, a carbonless copy of the name and any other hand-written information remains as a permanent record in the visitor log book. Our visitor sign in log books are pre-printed with your custom visitor passes, 8 labels per page. Each visitor log book contains 100 pages (800 Labels Per Book) of full-color visitor id labels (or any other custom labels).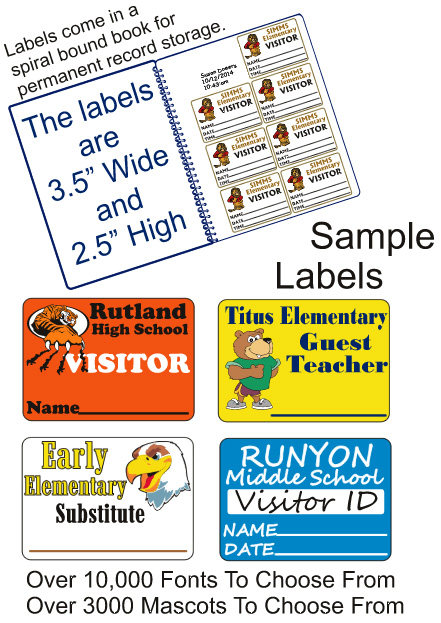 Spiral Bound Or 3-Hole-Punched Visitor Books
This simple visitor pass system is available with 3.5″ x 2.5″ stick-on labels in a spiral-bound visitor log book, or as 3-hole punched pages ready for a looseleaf binder.
Extremely Affordable Visitor Tracking System
Spiral Bound Visitor Sign In Books are $80 each (100 pages with 800 Labels)
3-Hole Punch Visitor Sign In Books are $75 each (100 pages with 800 Labels)
Visitor Log Book Features:
Full color custom visitor labels – No Setup Charges
800 labels per book (100 pages – 8 labels per page)
Spiral bound or 3-hole punched
Inexpensive – 10 cents per label or less
Permanent carbonless record of visitor information
Extremely easy to use
Choose from over 3,000 mascots or use your own artwork/logo.
10,000 fonts to choose from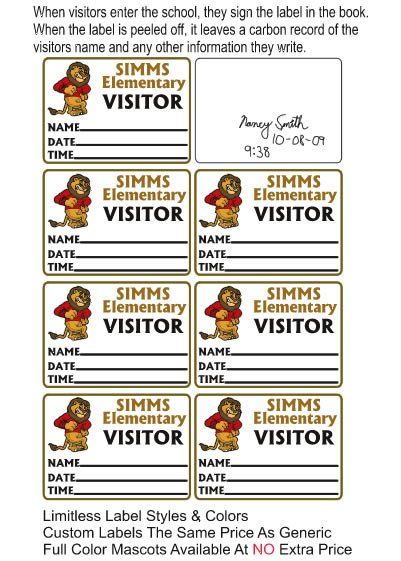 Easy Ordering For Visitor Books
Use our Book System Order Form for ordering either spiral-bound visitor books or 3-hole punched visitor log books