Visitor Passes
Visitor Passes
Visitor Passes increase the security of schools and offices by allowing teachers and security personnel to easily recognize visitors at a glance.
By using these brightly colored Visitor Passes, you will be able to instantly increase the safety and security of your students, pupils, staff and employees.

Visitor Pass Solutions For Your School
Custom Visitor Pass solutions can be created for any school, university or business by our designers. It's always free and we can use your custom logo artwork or you can choose from our huge collection of stock graphics. Contact us for more information on custom visitor pass solutions that will help you control visitor security.
Enhanced Security With Visitor Label Stickers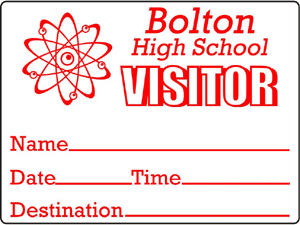 Many schools order multiple colors of our visitor pass label stickers to randomly rotate visitor badge colors throughout the week. This method of school visitor management helps security personnel and teachers to easily recognize individuals who are not authorized to be on the premises. It also prevents an individual from using the same badge several days in a row.
Businesses can enhance their visitor management systems with different colored label stickers to control access to different areas of the building. Blue visitor badges might mean all access, whereas red badges may only access shipping and receiving.
Options For Visitor Pass Name Tags
Visitor Pass labels are rectangular labels available as 4″ x 3″ or 3″ x 2″. Labels are printed on a continuous roll for easy storage and convenient use. Try our Free Trial of Visitor Pass Labels to check out the quality and workmanship of our labels.
We highly recommend using BLACK ink when printing on colored labels. Black ink shows up the best on these visitor labels and visitor name tags.  Most other ink colors show up great on white labels.
Visitor Pass Sign-In Books are also available where labels are supplied in a book format that acts as a simple visitor registration management system
Unlimited Possibilities !
Check out the Label Colors and Ink Colors for all name tag labels
LABEL PRICING
| | |
| --- | --- |
| Quantity | Price |
| 1,000 | $59.00 |
| 2,000 | $118.00 |
| 3,000 | $150.00 |
| 4,000 | $200.00 |
| 5,000 | $250.00 |
| 6,000 & up | $45.00 per 1,000 |
There's never a setup charge if you choose one of our mascots.
Shipping Charge For Labels is a Flat Rate of $9.99 per order
Sample Visitor Pass ID Labels